With sea views near the Jurassic Coast's classy town, Sidmouth Riding is right in East Devon.
Sidmouth Riding offers great riding CHOICE, from Shetland to Shire Cross.
Unlike some others, Sidmouth Riding COMPLIES (fully licensed -East Devon D.C.- & insured).
Sidmouth Riding is in a CONVENIENT location with easy access to off-road riding.
Sidmouth Riding offers LESSONS in outdoor or indoor arena or RIDING-OUT (with escort) on nearby Common where there are miles of open and woodland tracks and wonderful views of coast & country.
Sidmouth Riding is approved PONY CLUB CENTRE and by Association of British Riding Schools.
Sidmouth Riding offers DIY LIVERY with stable, forage and straw provided for owners.
Sidmouth Riding arranges CHILDREN'S PONY PARTIES with two hours of activities and fun.
For local lesson clients, Sidmouth Riding offers PART-LOAN of a pony or horse here on a monthly basis – you don't have to buy and you only pay for days you wish to ride!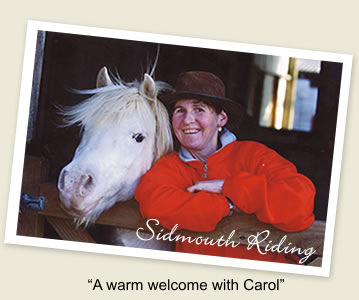 Click below for more details on:
All information is correct at the time of compilation but does not constitute any offer. Terms and conditions apply and we reserve the right to alter or amend terms and conditions either with notice to clients or without notice to other parties.
Sidmouth Riding Ltd. Co. Reg. 4991145.